Carpetland News
Carpetland Celebrates 70 Years
Cincinnati, OH -- Carpetland Carpet One celebrated 70 years in business on Oct. 22, 2016, with a party, and
a video featuring its employees.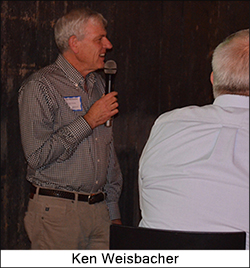 "We have grown to become among the top 20 largest independently owned flooring retailers in the country," Ken Weisbacher, president and owner, told a crowd of about 250 employees and guests.
Kurt Weisbacher, Ken's father, began the company as a commercial floor-cleaning business after returning from service in WWII in 1946. He would be very proud of, and likely did not imagine, the presence Carpetland and its sister companies would come to have as a full-service flooring retailer in Southwestern Ohio, Columbus and Northern Kentucky, Ken said.
Carpetland has benefited from great leaders, including Vice President Steve Contois, who joined the company as sales manager in 1978. But equally important is a great team of employees, dedicated to doing their best work, and helping their co-workers do their best work, Ken said.
The celebration was held at The American Sign Museum in Camp Washington, OH.
Read Carpetland Carpet One's full history here.
---

Carpetland Carpet One Floor & Home to receive piece of fallen World Trade Center steel June 25 in appreciation for helping catastrophically injured soldiers
Cincinnati, OH – A New York City firefighter will present a piece of steel from the fallen World Trade Center to Carpetland Carpet One at 920 Lila Avenue in Milford, during a ceremony at 3:30 p.m. June 24. The ceremony is in appreciation for the company's participation in the Building for America's Bravest ™ campaign. The campaign, started by the Stephen Siller Tunnel to Towers Foundation, raises funds to build high-tech "smart homes" for our country's catastrophically injured service members.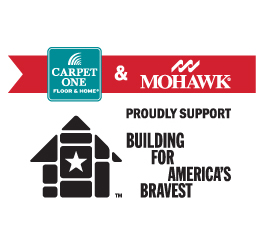 Carpetland -- a locally owned company -- is a member of Carpet One Floor & Home, which along with manufacturing partner Mohawk Flooring, has committed to providing flooring materials and installation for 46 smart homes. Carpet One stores now are trying to raise funds to build at least two more homes through an in-store, $10 donation program.

"The funds raised allow specially adapted homes to be built and improve the lives of those who have been critically injured in the course of protecting others and our country," Ken Weisbacher, president of Carpetland Carpet One, said. "We are very appreciative of the Foundation's effort to honor us, raise awareness and encourage as many people as possible to help with the Building for America's Bravest campaign."

Smart Homes from Building for America's Bravest are designed to meet the specific needs of each recipient. This means features such as automated doors and lighting, wider doors, showers that accommodate wheelchairs and raised or lowered counters.

The Stephen Siller Tunnel to Towers Foundation was founded in honor of Siller, a fallen 9/11 New York City firefighter. On Sept. 11, 2001, he was on his way to play golf when he heard of the catastrophe that was unfolding at the World Trade Center.

Siller strapped on 60 pounds of firefighter gear, rushed on foot through gridlocked traffic, and ran from the Brooklyn Battery Tunnel to the World Trade Center site. He was last seen with his brothers of Squad 1, all of whom died saving others.

During the Milford ceremony, and another at 10 a.m. June 25 at the 10101 Springfield Pike Carpetland store, members of the Fire Department of New York City, acting on their own initiative as ambassadors for the Foundation, will present the store with a specially-designed shadowbox containing 9/11 steel from Ground Zero. They plan to visit every Carpet One store in the nation during their shadowbox tour.
Carpetland Carpet One's current Building for America's Bravest fundraising effort welcomes donations at all of its stores: 920 Lila Ave., Milford, OH 45150; 10101 Springfield Pike, Cincinnati, OH 45215; and, 3130 Dixie Highway, Erlanger, KY 41018.
To learn more, contact Carpetland Carpet One Floor & Home in Milford and Cincinnati, OH, and Erlanger, KY.